Report on Chinese Enterprises Globalization (2016)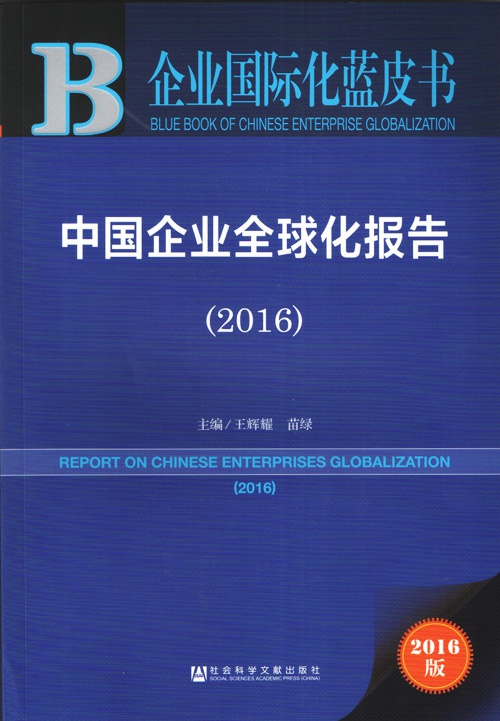 Publisher:
Author:
Release Date:
Click for Larger Picture
---
Abstract
The CCG's Report on Chinese Enterprises Globalization (2016) offers systematically and comprehensively successful experiences of theChinese business enterprise globalization from 2015 to 2016. By deeply summarize and analyze circumstances for Chinese business enterprises, this report provides practical policy suggestions to address common problems and risks faced by Chinese companies in foreign markets.
This report consists of seven chapters for discussion around the topic, including The General Report, the Evaluation System and Rankings, the Investigation Reports, the Specific topic Reports, the Strategy and Recommendation, as well as theChinese Enterprises Cases Study.
The first Chapter,the General Report systematically reviews the current characteristics and trends of foreign investment globally as well as from China.Based on case studies of Chinese enterprises from 2000, this chapter aims to provide a general picture of characteristics of the current Chinese investmentoverseas. The chapter then further summarizes and discussesseven difficulties encountered by Chinese enterprises investing overseas; namely, low participation in existing international standard establishments, lack of professional managers with international experiences, miscommunicationbetweenChinese enterprises and International Non-governmentalOrganizations, misunderstanding of foreign trade unions, difficulties in promotingChinese brands internationally, and low ability in facing legal and political risksfor Chinese enterprises investing abroad.
The Second Chapter, the Evaluation Mechanism and Ranking, is to establish a theoretical analysis mechanism for evaluating global performance of Chinese Enterprises abroad, namely the Chinese EnterprisesGlobalization evaluation mechanism. This mechanism is built on the basis of data collection of more than 300 Chinesetransnational corporations. Through comprehensive investigations of the development of Chinesemultinational corporations, this chapter ranks the top 50 ChineseEnterprises of globalization development, followed by the top 50 newly-developing companies, the top 10 ChineseEnterprises of cross-border M&A (mergers and acquisitions), the top 10 ChineseEnterprises of overseas R&D (research and development), and the top 10 ChineseEnterprises in "Belt and Road"Initiative.
The third chapter, the Report of Specific topicfurtherdiscusses specific issues occurred under the period of Chinese social and economic transformation, offering a multi-angle reference to the Chinese Enterprises Globalization from special perspectives. Special issues in this chapter refer toprojects on "Characteristics and Suggestions regarding China-Africa Industrial Cooperation", "Slowly Better than Worsen: Discussion on the Boom of Chinese Foreign Investment", "The Comparison between China and Japan Enterprises Oversea Development", "Report for Chinese Investment in the U.S 2016","Theoretical Review of Foreign Research regarding Chinese Overseas Investment", "A Re-understandingofChinese "Belt and Road" Strategic Initiative","Co-building the "Belt and Road": Strategic Options on the Chinese Enterprises going Global", and "Research onChinese Business Model in the "Belt and Road" Market".
Chapter Four, The Report of Strategy and Recommendation, offers strategies and instructions for each step of Chinese investments abroad, through the lens of potential legal risks. Further, by combining with research conducted by CCG previously, this chapter is offering in-depth discussion on topics including "Establishing Political Insurance Mechanism and Political Risks-spreading", "Advising Talents and Tourism as the Breakthrough Point of the "Belt and Road" Strategic Initative", "Core areas in Legal Due Diligence of Chinese Cross-border M&A","the Exploring and Analyzing the Risks Prevention of Chinese Enterprise Foreign Investment", as well as "Possible Solutions for Security Risks Faced by the 'Belt and Road'Strategic Initiative".
Drawing from classic cases of the top Chinese globalized corporations, including China Chemical, FUYAO Glass group and Petro China, Chapter fivethe Chinese Enterprises Cases Study provides case studies with experiences for Chinese companies moving forward in the progress of businessglobalization.
Finally, the Appendixes, the CCG's Report on Chinese Enterprises Globalization (2016) holds a collection of key events regarding Chinese outbound investment activities from 2015 to 2016. By assisting readers in understanding the development process of Chinese enterprises globalization, this report is providing advises on the globalization process of Chinese corporations both theoretically and practically.
CONTENTS
BI General Report
B1.The Current Characteristics and Trends of Chinese Globalization
Wang Huiyao, MiaoLu
General Situation
Current Situation and Characteristics of Global Foreign Direct Investment between 2015-2016
Current Situation and Characteristics of Chinese Enterprises Going Global between 2015-2016
Problems faced by Chinese Enterprises Going Global and Suggestions
Conclusion
BII  Evaluation Mechanism and Ranking
B2. The Evaluation Mechanism of Chinese Enterprises Globalization
Wang Huiyao, Cao Jiajie
B.3 The Evaluation of Chinese Enterprises Globalization 2016
CCG Research Group on Enterprises Globalization
BIII  InvestigationReports
B4.Investigating and Analyzing Cross-border Investment by Chinese Enterprises
CCG Research Group on Enterprises Globalization
B5.Investigating Opportunities, Challenges, Risks and Strategies on Chinese Enterprises "Going Global"
CCG Research Group on Enterprises Globalization
BIV  Special Reports
B6.Theoretical Review of Foreign Research regarding Chinese Overseas Investment  Wu Songbo, Lu Jinyong and Cheng Xiaoqing
B7.Slowly Better than Worsen: Discussion on the Boom of Chinese Outbound Investment  He Weiwen
B8.Analysis on Chinese Investment in the U.S  Wang Huiyao, Miao Lu
B9.Characteristics and Suggestions regarding China-Africa Industrial Cooperation  Cui Mingmo
B10.The Comparison between China and Japan Enterprises Oversea Development  Kang Rongping
B11.A Re-understanding of Chinese "Belt and Road  He Weiwen
B12.TCo-building the "Belt and Road": Strategic Options on the Chinese Enterprises Going Global
Xu Hongcai, Xu Yilan
B13.Research on Chinese Business Model in the"Belt and Road" Market  Wang Huiyao, Cao Jiajie
BV  Reports on Strategy Recommendation
B14. Advising Talents and Tourism as the Breakthrough Point of the "Belt and Road" Initiative  Wang Huiyao, Miao Lu
B15. Exploring and Analyzing the Risks Prevention of Chinese Enterprise Outbound Investment  Li Zhiqiang, Ou Long
B16. Possible Solutions for Security Risks Faced by the "Belt and Road" Initiative  Liu Qun
B17. Establishing the Political Insurance Mechanism for Limiting Political Risks  Wang Huiyao, Miao Lu
B18. Core Areas in Legal Due Diligence of Chinese Cross-border M&A   Yu Chengzhi
BV  Enterprise Reports
B19. A case study of the Fuyao Group "Going Global"
Zhao Jingru
B20. A case study of the Petro China "Going Global"
Gong Kai
B21. 9 Lessons of Cross-border M&A from CHEM China
Ke Yinbing
BⅥ   Appendixes
B22.Key Events of China Outbound Investment (July, 2015~June, 2016)
B23. Postscript