Annual Report on the Development of Chinese Students Studying Abroad (2016) No.5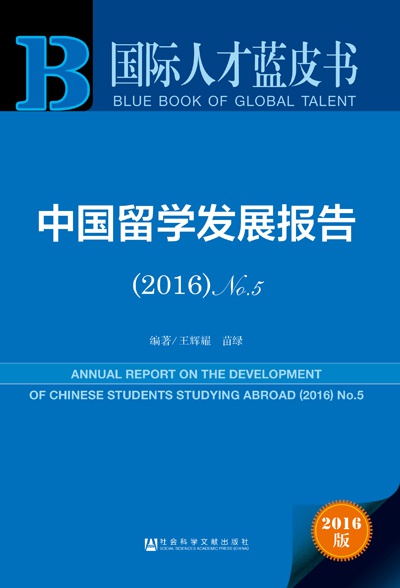 Publisher:
Author:
Release Date:
Click for Larger Picture
---
Abstract
 In order to illustrate this emerging trend, arising hot issues, and the unique characteristics of China's development in international academic exchanges, CCG has edited this blue book, called "Annual Report on the Development of Chinese Students Studying Abroad (2016) No.5".This annual report consists of five different parts, which are the General Report, Investigative Report, Featured Reports, Regional Reports, and the Appendix.
In order to promote healthy development in the international academic exchanges field, the General Report can be divided into four different sub-sections. The first sub-section stands in a global context and reviews the development trends of the industry. In the second sub-section of the General Report, it outlines the industrial condition and the characteristics observed in China in 2015. For the purpose of providing an in-depth analysis on the industrial condition, this section will conduct the research studies from six different aspects: 1) the global influence China has as a major source country for international students; 2) the increasing ratio of overseas Chinese students is much higher than the scale of enrollment in all types of domestic education; 3) the increasing interest in studying abroad among Chinese youths; 4) the quick growth of Chinese returnees; 5) the large career potentials for studying in China; 6) the increase of international students coming from the "the Belt and Road (B&R)" neighboring countries. In the third section of the General Report, it discusses the potential challenges China still faces nowadays, such as the "studying abroad deficit" phenomenon and the intense competition between landing jobs in foreign countries and joining the Chinese domestic workforce. Following the third section, the Report concludes the entire analysis is with a list of practical suggestions. These suggestions aim at improving administrative services for overseas Chinese students, optimizing the business environment for returnees to conduct innovative entrepreneurial activities, and encouraging foreign youths to study in China.
The second part of the bluebook provides an Investigative Report which consists of a large-scale survey on the topic of overseas Chinese students and returnees. In terms of the content structure, this Investigative Report is drafted based on the survey results, and can be divided into three sub-sections. The first section analyzes the current condition of overseas Chinese students who went abroad between 2007 and 2015. In order to provide a thorough overview, the analysis includes various aspects of the topic, ranging from the distribution of the overseas students' professions, their purposes for studying abroad and the information channels for collecting information about foreign universities. The second section analyzes the domestic entrepreneurial environment for Chinese returnees and the potential challenges they may face in China. As for the last section of the Investigative Report, it reviews the location and the quality of their job placement after graduation, and points out the emerging tendency in returning to China among the overseas Chinese graduates.
The Featured Reports part can be divided into four sections based on the four independent research papers it consists. The first section analyzes the current trends and situation of international students studying in China. By studying other countries' success in attracting international students, the first section also offers suggestions to the Chinese government on how to enhance China's attractiveness. In addition, it also provides a series of potential solutions to the challenges foreign students are facing in China. The second section primarily focuses on the development trends of the overseas Chinese student associations. Based on the research results, it also provides suggestions for solving the development hurdles these organizations have encountered in the past. The third section conducted an exploratory study on Chinese returnees' participation in politics. This section includes a historical overview, a summary of the current trends and development difficulties, as well as a list of possible suggestions for enhancing their political participation in China. The last section conducts research studies on the phenomena of "reverse brain drain" and Chinese returnees going back to foreign countries. It puts a strong emphasis on finding the driving forces behind these phenomena and seeks to offer suggestions regarding these arising issues.
The Regional Reports provides overviews of the overseas Chinese students based on their geographic distribution. Regions that have been covered by this section include: North America, Europe, Oceania and Asia. Each overview comprises of an independent summary of the Chinese students' current living/working conditions and a projection on the future performances of these regions. All of the analysis and projections are being made based on the numbers of Chinese students studying aboard in these regions, the growth trends, the distribution of professions/majors, and the most recent immigration policies in these targeted regions. By reviewing these regions separately and providing a rough projection for each one of them, the report seeks to identify the hot spots for studying abroad, and offers an trustworthy reference for the overseas Chinese students.
Last but not least, the appendix functioned as a supplement to the Regional Reports. It introduces a list of internationally well-known universities locating in North America, Asia-Pacific and Europe. Accompanied with a brief overview on their admission ratio of international students, popular majors, options for scholarship/fellowship and the affordability of tuition, the appendix may provide useful information to the prospective Chinese youths who are seeking for foreign higher-education in these regions.
Contents
ⅠGeneral Report
B.1 The Development of China's Studying Abroad in an Era of Globalization: Characteristics and Suggestions
Wang Huiyao, Miao Lyu and Zheng Jinlian
New Characteristics of Global Oversea Study Development in 2015
The Status Quo and Characteristics of China Studying Abroad in 2015
The Characteristics of Studying Abroad Development in China in 2015
Suggestions on Promoting the Healthy Development of China's Studying Abroad
Abstract: In the era of globalization, global overseas study has developed new trends and characteristics, including more and more emerging nations and regions strive to develop its international education system and the reverse flow of international students from developed countries to developing countries. China as the biggest international students exporting country, its outflow of students accounts for a quarter of the total number of international students in the world. Hence, the transnational flow of Chinese student has an important influence on the development of global overseas studies. This paper analyzed the main characteristics of overseas study of China in 2015 which covers three aspects: overseas students, overseas returnees and oversea students studying in China. For example, the growth rate of Chinese students studying overseas is slowing down, however, it is still higher than the growth of domestic education enrollment scale. More and more primary and secondary school students choose to study abroad and the choices of major become more diversified. Overseas students also are confronted with fiercer competition both in domestic and international job markets. And their enthusiasm for returning back to China to start their own businesses and engage in innovative ventures is sparked. Furthermore, returned overseas students demonstrate outstanding performance in the area of charity work and social development, and they are more willing to participate in politics. Another conclusion we draw from this study is that the countries along the "the Belt and Road (B&R)" has become the most important source countries of international students in China. Based on analysis of these characteristics, this paper puts forward several suggestions on strengthening services for oversea students, optimizing the environment of innovation and entrepreneurship as well as promoting the sustainable development of studying in China.
Keywords: Studying Abroad; Returnees; Studying in China; Development Status; Suggestions
ⅡInvestigative Reports
B.2 Investigating University Graduates Studying Abroad in 2015
Miao Lyu,Zheng Jinlian,Wang Jianfang and Dong Qingqian
Abstract: The joint survey carried out by Center for China &Globalization (CCG) and MyCOS shows that the proportion of Chinese university graduates studying abroad has increased steadily in 2015.The main conclusions drawn from the report also finds good consistency among other researches in terms of academic diplomas, family financial support, study information acquiring and so on. The main reasons for Chinese university graduates studying abroad are to pursue postgraduate degrees and to enhance the professional competitiveness in the global job market. Family support is still the major financial source, especially for self-financed university graduates studying overseas. Domestic agencies and websites of foreign universities serve as the main sources of information regarding study abroad for university graduates.
Keywords: University Graduates; Studying Abroad
B.3 Investigating Current Situation of Chinese Returnees in 2016
Miao Lyu, Zheng Jinlian, and Wang Jianfang
Abstract:  In recent years, Chinese returnees have increased rapidly, and their career development back to China has gradually become a hot public concern. From January to August 2016, Center for China &Globalization (CCG) carried out an investigation on the development of Chinese returnees. The study found that regarding to latest status of returnees, there are problems in terms of employment, entrepreneurship, participation in politics, overseas contacts and adaptive capacity. Most of returnees have flocked together to eastern developed cities. Intensified job market competition in these cities resulted in high time cost in job hunting and low degree of job-major match. Those who plan to start their own business as entrepreneurs will find the operation cost is very high. However, the returnees are very willing to participate in politics and find ways to improve people's livelihood. Also they maintain contact with former classmates and colleagues overseas. Even though most of returnees said it is most difficult to adapt to the values and way of thinking back home, better job opportunities and competitive salary are very attractive. The passport is supposed to be more valuable and domestic recognition should be improved.
Keywords: Chinese Returnees; Entrepreneurship; Employment
B.4 An Analysis of Three Years Later the Status Quo of Postgraduates Studying Abroad after Graduation
Cao Chen and Bi Xi
Abstract: The employment and entrepreneurship of returnees has become a hot issue in the field of international human capital transnational migration studies. MyCOS Research Institute has carried out a three-year follow-up survey based on the 2011 and the 2012 session of graduates studying abroad and those in mainland China. The research has compared the status quo, employment destination and the quality of employment of both groups. The study found that in the two recent years, the oversea postgraduates returning rate remains stable, and the ratio is about 60%, among which nearly 50% of the returnees choose to live in the municipal cities directly under the central government. Three years later, the main choices for the employment of returnees is to work, to pursue higher degrees and to do their own businesses, of which the proportion of independent entrepreneurship is much higher than the domestic postgraduates. In the employment enterprises, the oversea returned postgraduates tend to work with transnational corporations and large firms. The employment quality of the 2012 session of postgraduates studying abroad has improved than the 2011 session, and also better than the domestic postgraduates.
Keywords: Postgraduates Studying Abroad; Postgraduates Studying in China; Status Quo after Three Years; Employment
Ⅲ Special Reports
B.5 The Development of Studying Abroad in China under the Background of Globalization:Current Situation and Suggestions
Wang Huiyao, Zheng Jinlian and Miao Lyu
Abstract: In 2015, the number of students studying in China reached nearly 40 million people, China has become the world's third largest international student importing country. However, the overall quality and benefits of studying in China are not very high. This paper analyzes the current situation of foreign students studying in China from four aspects: current international background, characteristics of students, universities efforts and related policies. It also summarizes the policies and measures to promote the development of international education, and analyzes the possible ways for China to learn from it. On this basis, it proposes the relevant policies and suggestions on how to promote the development of overseas study in China.
Keywords: Studying Abroad in China; International Experience; Policies and Measures
B.6 The Development of Overseas Chinese Students Organizations under the Craze of Studying Abroad—A Case of All-China Students' Federation (ACSF)
Miao Lyu, Zheng Jinlian and Wang Jiayu
Abstract: With the increasing number of Chinese students studying abroad, Chinese overseas students' organizations are also developing rapidly. The establishment of Chinese Overseas Students' Organizations could help Chinese students better cope with pressures in an unfamiliar environment, help them to have more opportunities participating in social events, and help them better adapt to new life and study in a foreign country. Simultaneously, the organization could strengthen the ties among oversea Chinese students, and establish and maintain the connection between the students and the motherland. However, Chinese Overseas Students' Organizations are experiencing some problems and obstacles at the same time. It is necessary to discover its own problems, strengthen supervision, improve innovation and quality of its activities. At the same time, improve communication with local communities and further strengthen cooperation with relevant institutions at home and abroad so as to better serve overseas students.
Keywords: Chinese Overseas Students; Chinese Overseas Students' Organization; All-China Students' Federation (ACSF)
B.7 A Study on the Phenomenon of Returnees Participated in Politics
Miao Lyu, Li Qing and Zheng Jinlian
Abstract: Oversea returnees is an important force in representing China's modern image globally since they can better integrate the latest western management concept and Chinese management model. Up to September 2016, this paper collects data and analyzes the situation of oversea returnees participating in political services, such as the members of Central Committee of the Communist Party of China Committee, the alternate members of Central Committee of the Communist Party of China Committee, the Ministers or Directors of Ministries and Commissions, the Vice Ministers or Deputy Directors of Ministries and Commissions, and the Secretaries of Provincial Party Committee and the Governors of a Province (the Committees of Prefecture Committee in Autonomous Region, the Presidents of District Government, the Mayors of Independently Administered Municipal District) from 31 provinces or cities (except for Hong Kong, Macao and Taiwan). Based on the data analysis, we proposed that it should further broaden the route of returnees participating in politics, and we also made relevant recommendations.
Keywords: Returnees; Participated in Politics; Leading Cadre
B.8 An Analysis of Chinese Returnees Returned Overseas and the Circulation
Zheng Jinlian, Miao Lyu and Wu Feiyi
Abstract: In recent years, there is intense interest in Chinese students studying abroad choosing to return to their home country. More and more talented students have chosen to return to China seeking better development opportunities for their careers, and the number of the returnees is increasing steadily. At the same time, the returned students are still in the "unstable" status, and there is a phenomenon of returnees returning back to overseas again and this is called as talent circulation. The object of this study is trying to continuously improve the competitiveness of China in attracting talented people and improve the competitiveness for keeping talent in this circulation. In this paper, we have studied the talent circulation for understanding this root of cause in order to put forward sound policies and suggestions to further optimize the international talent circulation and enhance the attractiveness to the overseas talents for mainland China.
Keywords: Returnees Returned Overseas; Returned Students; Talents Circulation
Ⅳ Regional Reports
B.9 Chinese Students Studying in North America: Current Situation and Prospects
Zheng Jinlian, Zhang Qiran and Yangfei
Abstract: The United States and Canada have attracted a large number of overseas students by virtue of high-quality educational resources and a sound educational system. Although both are the most popular destinations for studying abroad in North America, they focus on shaping their own policies for attracting overseas students in recent years, which covering a range of studying, working and migration. This report provides an overview of the current status for foreign students studying in the United States and Canada in 2015, with an emphasis on the situation and prospects of Chinese students particularly.
Keywords: Studying Abroad in the United States; Studying Abroad in Canada; Latest Study-abroad Policies
B.10 Chinese Students Studying in Europe: Current Situation and Prospects
Zhang Qiran, Yang Fei and Zhu Hua
Abstract: With the implementation of China" the Belt and Road (B&R)"strategy, the exchange and cooperation in culture and education between China and Europe has been further strengthened, and the choice of countries and majors for Chinese students studying in Europe is more diversified. In 2015, the United Kingdom, Germany and France are still the most popular destinations for foreign students studying in Europe. Distinguished European Universities have long histories, well-developed educational system, high-quality educational resources, and worldwide academic reputation, along with low tuition fees and efficient visa policy, these are all the advantages for attracting overseas students.
Keywords: Studying in the United Kingdom; Studying in France; Studying in Germany; Studying in Russia; Studying in European Countries
B.11 Chinese Students Studying in Oceania: Current Situation and Prospects
Dong Qingqian and Sun Xiaomeng
Abstract: Australia and New Zealand have always been the main destinations for Chinese students studying abroad. The number of Chinese students going to Australia and New Zealand has increased slightly in2015 as compared as in 2014. Most universities and institutes in Australia and New Zealand adopt a modern and innovative teaching style, charge relatively low tuition fees. Furthermore, better opportunities for applying work permit after graduation, low cost of living, low-barrier immigration policies, and safe and stable social environment, have enabled these two countries to attract large numbers of Chinese students. China has become the first source of international students in both countries. This chapter will introduce the current situation and the relative advantages of studying in Australia and New Zealand.
Keywords: Studying Abroad; Studying in Australia; Studying in New Zealand
B.12 Chinese Students Studying in East Asian and other "the Belt and Road (B&R)" Countries: Current Situation and Prospects
Miao Lyu, Zheng Jinlian and Zhang Qiran
Abstract: Japan, South Korea, and other "the Belt and Road (B&R)" Asian countries such as Singapore and Malaysia, are "hot" destinations for studying abroad with high levels of internationalization in education. The development of these countries is fairly mature and sound in various fields with good education and cultural environment especially because these countries are geographically adjacent to China, and Chinese students could more easily adapt to their culture and environment, therefore the numbers of students coming to these countries are steadily rising. This report introduces the general situation of students studying in Japan and Korea in 2015, and further discusses the development of tertiary education and studying abroad in Southeast Asian and South Asian countries along the route of "the Belt and Road (B&R)", which also reviews the educational collaborations between China and these countries.
Keywords: Studying in Japan; Studying in South Korea; the Belt and Road (B&R); Education Cooperation
BⅤ Appendix
B.13 Part of the World's Top Universities and Popular Majors
Zhang Qiran, Li Qing and Wang Jianfang
B.14 Postscript