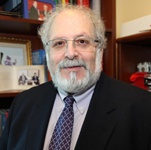 Denis Simon
---
Dr. Denis Fred Simon is Professor of China Business and Technology at Duke's Fuqua School of Business. Moreover, he also serves as one of Duke's thought leaders regarding innovation and higher education developments in contemporary China.
Prior to his arrival at Duke Kunshan University, Dr. Simon served as Senior Adviser on China and Global Affairs in the Office of the President at Arizona State University. In that role, he served as the chief officer responsible for the university's strategic partnerships and collaborative initiatives with universities, enterprises, and government agencies (national and local) in Greater China, including Hong Kong, Taiwan, and Chinese mainland. He also served as Executive Director of the University Design Institute-a campus-wide initiative that leveraged ASU's experience and knowledge regarding reform and innovation in the higher education space. Dr. Simon also held a tenured faculty position and served as the Foundation Professor of Contemporary Chinese Affairs in the School of Politics and Global Studies. Prior to joining ASU, Simon was the Vice Provost of International Affairs at the University of Oregon.
Simon's distinctive competence is that he is one of a select number of global management experts with dual knowledge of both business strategy & technology management and Asian business systems and cultures. Having first visited Asia in 1976 and the China mainland in 1981, Simon has developed an extensive network of professional relationships throughout business, government, and academia in the region. He has written and lectured widely regarding innovation, high technology development, foreign investment and corporate strategy in the Pacific Rim and is frequently quoted in the Western and Asian business press regarding commercial and technology trends in China, Hong Kong and the Asia-Pacific region. He continues to work with several US, European and Asian companies in a strategic consulting capacity with regard to business and technology developments in China.
Among his key publications are: Technological Innovation in China with Detlef Rehn (Harper Books, 1987), Science and Technology in Post-Mao China edited with Merle Goldman (Harvard University Press, 1989), The Emerging Technological Trajectory of the Pacific Rim (ME Sharpe, 1995), Corporate Strategies Towards the Pacific Rim (Routledge, 1996), Techno-Security in an Age of Globalization (ME Sharpe, 1997), and Global R&D in China edited with Yifei Sun and Max Von Zedtwitz (Routledge, 2008). He recently completed a new book with Dr. Cao Cong dealing with China's scientific and engineering talent pool, entitled China's Emerging Technological Edge: Assessing The Role of High-End Talent (Cambridge University Press, 2009).
He received his B.A. degree in Asian Studies from the State University of New York in 1974. He received his M.A. degree in Asian Studies in 1975 and Ph.D. in Political Science in 1980 from the University of California at Berkeley. From 1978-80, he was a visiting researcher at the East-West Center in Honolulu. In 1985, he was awarded a Fulbright Fellowship for Hong Kong (declined). And, from 1991-92, he was Visiting Scholar within Fujitsu Research Institute in Japan, where he worked on a project dealing with the changing patterns of Japanese manufacturing and R&D networks in China, Hong Kong and the Pacific Rim. He reads and speaks Mandarin Chinese fluently.
He is a member of the Council on Foreign Relations, the Association for Asian Studies and the National Committee for US-China Relations.