China Ought to Boost Its Inbound Tourism Vigorously as It Sees a Booming Outbound Tourist Wave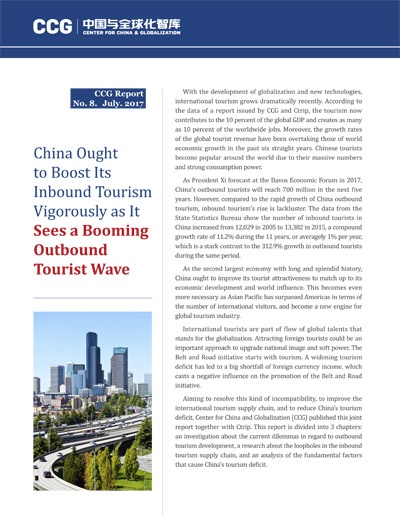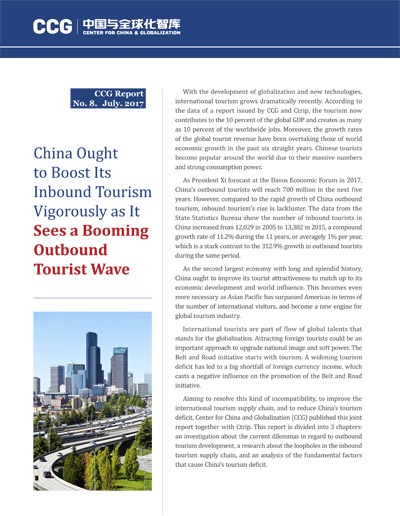 With the development of globalization and new technologies, international tourism grows dramatically recently. According to the data of a report issued by CCG and Ctrip, the tourism now contributes to the 10 percent of the global GDP and creates as many as 10 percent of the worldwide jobs. Moreover, the growth rates of the global tourist revenue have been overtaking those of world economic growth in the past six straight years. Chinese tourists become popular around the world due to their massive numbers and strong consumption power.
As President Xi forecast at the Davos Economic Forum in 2017, China's outbound tourists will reach 700 million in the next five years. However, compared to the rapid growth of China outbound tourism, inbound tourism's rise is lackluster. The data from the State Statistics Bureau show the number of inbound tourists in China increased from 12,029 in 2005 to 13,382 in 2015, a compound growth rate of 11.2% during the 11 years, or averagely 1% per year, which is a stark contrast to the 312.9% growth in outbound tourists during the same period.
As the second largest economy with long and splendid history, China ought to improve its tourist attractiveness to match up to its economic development and world influence. This becomes even more necessary as Asian Pacific has surpassed Americas in terms of the number of international visitors, and become a new engine for global tourism industry.
International tourists are part of flow of global talents that stands for the globalization. Attracting foreign tourists could be an important approach to upgrade national image and soft power. The Belt and Road initiative starts with tourism. A widening tourism deficit has led to a big shortfall of foreign currency income, which casts a negative influence on the promotion of the Belt and Road initiative.
Aiming to resolve this kind of incompatibility, to improve the international tourism supply chain, and to reduce China's tourism deficit, Center for China and Globalization (CCG) published this joint report together with Ctrip. This report is divided into 3 chapters: an investigation about the current dilemmas in regard to outbound tourism development, a research about the loopholes in the inbound tourism supply chain, and an analysis of the fundamental factors that cause China's tourism deficit.