Annual Report on China's International Migration (2018)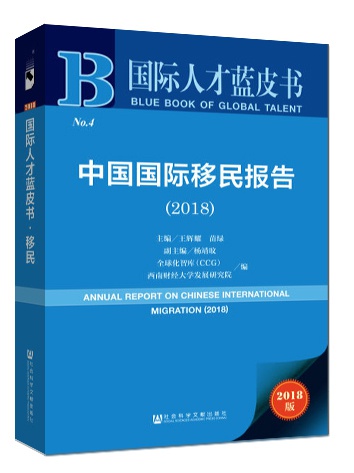 Publisher:
Author:
Release Date:
Click for Larger Picture
---
Abstract
2018 marks the 40th anniversary of China's Reform and Opening Up. It is a milestone year for China's participation in international affairs and integration into the international community. Also in this year, China has promoted the formation of a new pattern of all-round opening up and entered into a new era of development after the 19th National Congress. At present, the development of globalization has entered a new stage. In the face of the challenges presented by the global refugee crisis and mixed migration governance, the issue of international migration has become the policy test site and battlefield of the international community's divided opinion on the development of globalization. In line with the United Nations' 2030 Agenda for Sustainable Development, to resolve the issue of forced migration caused by climate change, conflict and extreme poverty, the international community is striving to reach Global Compact for Migration, the world's first global and comprehensive migration mechanism by 2018.
According to the latest estimate of the United Nations Department of Economic and Social Affairs, of the 244 million international migrants, 207 million are of working age. The total volume of international migration is on the rise, but the mobility of migration is declining. These contradicting characteristics of migration are becoming increasingly obvious. In massive migration, the complex nature of mixed migration has posed great challenges to governance. These challenges cannot be solely addressed by one country, but are in need of regional and global international cooperation.
The immigration policy changes in destination countries, as in the United States, Germany, Russia, Saudi Arabia and the United Kingdom, have strongly influenced the international community's overall opinion on international migration. In context of political election and polarized thoughts, the public is prone to misperceptions and wrongful expectations of international migration.
As the fourth largest source country of immigrants, China is not only the second largest remittance-sending country, but also the fourth largest (in 2016) and fifth largest (in 2017 according to incomplete data) remittance-receiving country. The above data shows that China is becoming more like a typical country of immigration. China has also begun to form and accumulate international immigration management experience by introducing international talents and improving its management of foreign nationals. However, the proportion of international immigrants in China remains extremely low given China's huge population.
This is not conducive not only to the improvement of China's international talent competitiveness, but also to the innovative motivation that stimulate China's economic and social development. In order to better understand international migration and governance, to promote the sustainable development of China and the rest of the world, to promote a safer, more orderly and normal migration of the population, as well as to sort out the current status and trends of international migration, policies and governance changes in major western countries, the Center for China and Globalization (CCG) published "Annual Report on Chinese International Migration (2018)" , a blue book aiming to explore the situation of China's international migration under the background of global development. This blue book is comprised of four parts: General Report, China's Governance, Featured Reports and Regional Reports.
The section of General Report captures the current status and characteristics of international migration from the perspectives of China and the world. It focuses on the following aspects: regional status quo, new development features and governance mechanisms of international migration; the dynamics of immigration policies in major Western countries with a focus on the reasons behind labor migration debate and other policy options; the status quo and characteristics of China as both the destination country and source country of international migration; and China's new policies and governance of immigration.
The four reports included in the section of China's Governance focus on the challenges of managing foreign nationals that China faces and China's corresponding measures, summarizing different models for the social integration of international immigrants from different origins and ethnic groups, and China's experience and progress in international migration governance in the last few decades.
Similarly, the section of Featured Reports includes three individual reports, covering issues including global talent competition and U.S. immigration policies, the problem of Rohingya communities in Southeast Asia, and the health status of Chinese immigrants in Australia. Together, these three reports give a detailed analysis of the core issues of international migration, including global talent mobility, the forced displacement of immigrants and immigrants' health.
The section of Regional Reports is made up of three parts, focusing on the three countries' immigration policies. As for the Unites States, the world's largest immigration destination country, the first part of this section concentrates on its immigration status quo and the reasons behind its policy changes. When it comes to Russia, the world's third largest immigration destination country, also the third largest immigration source country, the second part of this section discusses its labor migration issues and immigration policies. The final part focuses on Japan's New Deal, which aims to attract high-end talents from China.
Similarly,the section of Featured Reports includes four individuals reports, covering issues including global talents competition and U.S. immigration policies, the problem of Rohingya communities in Southeast Asia, and the health status of Chinese immigrants in Australia. Together, these three reports give a detailed analysis of the core issues of international migration, including global talent mobility, the forced displacement of immigrants and immigrant's health.
Contents
I General Report
B1 The Current Situations and Features of Global Migration and International Immigration and Emigration in China
Wang Huiyao, Miao Lv, Yang Jingmin, and Zheng Jinlian
1, The Current Situation and Trend of International Migration
2, The Immigration Policy Orientation of Major Western Countries
3, The Current Situation and Features of China's International Migration
4, Conclusions and Suggestions
Abstract: In the recent years, the development trend of international immigration shares the following characteristics: while there has been an increase in the number of international immigrants, the immigration destinations are relatively concentrated and the mobility of international migration has declined; economic development has stimulated short-term migration; immigration flows are diversified especially in large-scaled ones, and there is a mixed motivation of migration; there is a large number of forcibly displaced people and the proportion of resettlement and return remains low, but the growth of the number of forcibly displaced people began to show signs of slowing down. Major western countries' tightening immigration policies cannot show the whole picture of all countries' immigration policies since each country has its own emphasis on immigration policy reform which is usually based on its own development. Labor migration, as well as the relationship between employment and innovation, has always been at the center of immigration policy debate. Despite the fact that the United States and the United Kingdom continued to raise the threshold of investment immigration, they have formulated policies and rules to attract foreign entrepreneurs. In contrast to the tightening of immigration policy, Singapore has to some extent loosen its restriction over immigration while Canada has increased the number of high-quality immigrants in combination with its international education strategies. Although the proportion of international immigrants to the total population in Mainland China remains the lowest in the world, China has gradually evolved from a source country of international immigrants to a destination country and its governance mode and mechanism are continuously improving as more and more foreigners came to China to pursue the Chinese dream. As for emigration, countries along the path of the "One Belt, One Road Initiative" have become Chinese regular migrants' major destination. .
Keywords: International Immigration; Immigration Policies; Cross-border Mobility of Population; China
Ⅱ Domestic Issues
B. 2 Studies on the Characteristic of the African Community in Guangzhou and Governance Strategy
Mao Guomin, Liu Chengcheng
Abstract: The administration of African immigrants in Guangzhou is confronting predicament, for example, on the government level, there are multiple managements and lagging legislation; on the social level, citizens psychologically fear Africans; on the cultural level, language obstacles hinder Africans from being integrated into the society; on the technological level, information is fragmented and departments lack a data integration and sharing platform. As a result, in order to well govern African immigrants, Guangzhou take the lead to establish the immigration office, which implements closed management of 'visa-entry-residence-exit'; Africans will be managed by themselves. Guangzhou will promote the mode of foreign neighborhood committee and foster social organizations such as African chamber of commerce, which can help government solve urgent problems that are hard to do for the authority; Guangzhou promotes Chinese voluntary service and national condition education, especially telling China-Africa cooperation stories; Guangzhou also introduces large database management to construct a database which shares information among multiple departments such as foreign affairs, public security, customs, quarantine and etc.
Key words: African Immigrants; Immigrants Administration; Guangzhou; Countermeasures
B.3  A Decade Report of Africans in China
Niu Dong and Zhang Zhenjiang
Abstract: The appearance of Africans in China is one of the results of China's integration into the world, which attracted the attention of global media and local governments. The research on Africans in China has been carried out for over 10 years, with focusing on the following 9 topics: geographical distribution, cause of migration, population characteristics, population size, nature of concentrated area, social network, Sino-African relations, local response and social integration, by which a full image of Africans in China was portrayed. The report reviews the literatures on Africans in Guangzhou, presents the produced knowledge about the group for Chinese academia and the public, and gives a further comment to the significance of the research.
Keywords: African, Immigration, Mobility, China, Guangzhou
B. 4   A Comparative Study on African Merchants and Korean Merchants in Guangzhou
Zhou Daming and Zhou Aihua
Abstract: Based on field research and in-depth interviews, the paper makes comparisons between African merchants and Korean merchants in Guangzhou. The historic background of immigrants and structural factors of Guangzhou including foreign trade, supply-side structural reform, immigrants management policy and the mainstream of social structure that exert different effects on two immigrant groups are discussed firstly. Traders from Africa and South Korea both form their community as business and living zone and interact with the local society. The patterns of integration and segregation with local community practiced by African immigrants and Korean immigrants vary due to differences in social and economic background, ethnic characteristics, social space and activity. Finally, the conclusion and relevant suggestion are proposed.
Keywords: Guangzhou; international migration; comparative study; segregation; integration
B. 5  The Innovation and Development of Local Foreign Talent Entry/Exit Policy in China
Dong Qingqian
Abstract: Compared to the researches on national exit and entry policies for foreign talents, there are relatively insufficient studies of this issue that standson the perspective of local governments. Since June 2015, many provinces in China has followed up the administrative rules set by the Minister of Public Security, starting the new round of innovation and reform of exit and entry policies. These advancements have many commonalities, while distinctions and features are reserved. By analyzing and comparing municipal exit and entry policies for foreign talents, this article summarizes their characteristics and defects. At last, constructive recommendations on the development of the policies based on current status have been provided.
Keywords: Foreign Talent; Local Policies; Reform and Innovation
Ⅲ International Issues
B. 6 Immigration Situation on the United States and the Trump's Immigration Policy
Yang Jingmin and Songmingqi
Abstract: In the first year of Trump administration, the immigration policy of the United States has a major turn, which not only has a significant impact on the domestic society but also brings great changes to international setup. On the basis of the statistical yearbook of the Department of Homeland Security and the visa information issued by the US foreign ministry since 2008, this paper analyzes U.S immigration of 2017 from multiple perspectives. Compared with relevant policies and immigration data in Obama's tenure, the number of legal immigrants in various categories has been significantly reduced and many indicators have reversed the trend of growth in the past decade. This is a reflection of the prevailing anxiety among the middle class of U.S and a direct consequence of the increasingly tense international security situation. Finally, this paper analyzes the influence of Trump's immigration policy on all kinds of immigrants, social and economical development of U.S and global diplomacy. We draw the conclusion that in the short run, the tightened immigration policy can fight against illegal immigration, reduce the crime rate and relieve the unemployment problem of some low-skilled American blue collar workers. However, in an irreversible context of globalization, this will also reduce the attractiveness to high-end immigrants, increase the financial burden and the complexity of the border conflicts. As the most important nation of immigrants is growing conservative, a new trend in the international immigration system can be expected.
Key words: United States; Immigration policy; the Trump's Administration
B. 7  Labor Migration and Migration Policy in Russia
Tian Hao
Abstract: This paper describes recent trends in labor migration in Russia and discusses the main challenges of modern migration situation in Russia. International labor migration addresses the issues of labor force and natural population replacement in Russia. The problems of legal regulation of migration, prevention of illegal migration and improvement of migration legislation have been discussed. The paper also analyzed new changes in Russia's immigration policy, and the working, living, and studying conditions of the Chinese in Russia.
Key words: Russia; International Labor Migration; Migration Policy
B.8  Japan's New Immigration Policies, Designed to Attract China's High-end Talent
Shao Chunfen
Abstract: In the impression of people, Japan has long been a single-populated society that is highly exclusive to immigrants. In Japan's immigration policies, for a long time, there has been a phenomenon that is contrary to traditional immigrant countries, namely it is more difficult for foreigners to acquire Japan's permanent residency than obtain its nationality. Japan's green card is the most difficult in the world. According to relevant laws and regulations in Japan, an ordinary foreigner is eligible to apply for permanent residency only if he or she has lived in Japan for more than 10 consecutive years, including paying working tax for more than 5 years. In recent years, in order to adapt to the trend of globalization, to address its population structure issues caused by low fertility and aging population, as well as to rejuvenate its sluggish economy, the Japanese government has issued a series of new policies on international migration. Since the fundamental changes in Japan's immigration policies have not been studied by scholars in China's international migration studies, the purpose of this paper is to study the opportunities and challenges China faces in the process of globalization, including: grasping the dynamic of international population flow from China to Japan, analysing Japan's new immigration policies and the reasons behind, predicting the impact these new policies have on China's international migration, and putting forward some policy suggestions. It is also hoped that this research can help people correct their unrealistic perceptions of Japanese immigrants caused by long-standing rumours.
Keywords: China; Japan; Globalization; International Immigration; Immigration Policy
Ⅳ Special Issue
B.9  Self-employment differentials among STEM and non-STEM College-educated immigrants
Cai Zhengyu
Abstract: Formulating and developing efficient immigrant policies are current necessities, given the State Immigration Administration of China is newly established. Some developed countries have accumulated more experience in immigrant policy making, but caveats remain. This article introduces a recent immigrant study (Cai and Winters 2017) to narrate this fact. This study uses data from American Community Survey to uncover a policy deficiency caused by an overlooked fact: the self-employment rate of foreign-born STEM college graduates, who benefit from pro-STEM policies, is significantly lower than their non-STEM counterparts. The raw difference is 3.3 percent. The empirical results imply that this difference can be partly explained by the different earning opportunities across college majors and employment types. An efficient immigrant policy should encourage efficient use of skilled labor, rather than advocate low-valued entrepreneurial activities. This conclusion can be generalized for our immigration policies making.
Keywords: Immigrant Policies; STEM Graduates; Self-employment Rate; Earning Differentials
B.10  Current Situation and Future of Forced Migrants in Southeast Asia From Perspective of Rohingya Issue
Liu Chang
Abstract: As main destination of forced-migrated Rohingya, Thailand, Malaysia and Indonesia have been achieved some progresses in the field of policy and countermeasures toward forced-migrated Rohingya, though it still hardly accords to the rule of Treaty and Protocol. Refugee policy among three countries are mainly negative, lacking positive impetus to improve rights and social position of Rohingya. Rohingya issue is the unsolved problem left in process of nation building of Myanmar, which is deeply rooted in the stateless status of Rohingya and further impacted by the accusation and safety problems. Mixed with history and reality, economy and politics, Rohingya issue is prone to more and more complicated and extremely hard to solve. Developing trend of Rohingya issue will determinate direction of refugee policy among Southeast Asian countries in the future. Mounting trend of violence engaged in Rohingya issue collectively spurs related countries to change its refugee policy for the consideration of security. Domestic factor will force ruler to small-step reform by amending policy and international doctor will make ruler make necessary compromises in local and detail part.
Keywords: Rohingya Issue; Forced Migration; Immigration Policies; Southeast Asian Countries;
B. 11  Analyzing the Health Status of China-born Migrants in Australia
Yang SiSi
Abstract: China-born migrants are one of the largest migrant group in Australia and its migration stream into Australia could be traced from the "gold rush" since the 1900s. Based on the Census data from the Australian Statistic Bureau in 2016, the China-born migrants were 509,555. Increasing researchers and policy-makers pay attention to this considerable group that try to examine their health status and whether they could remain the "healthy migrant effect" after migrating into Australia. Compared to other migrant groups in Australia, China-born migrants were characterized as younger, higher proportion of female and more willing to settle at the New South Wealth State and the Victoria State. Based on the case study of China-born migrants in Australia, this report analyses their general health status and further compares their status with that of China-born migrants in America. The findings show that comparing with Australian residents, the mortality rate and the utilization of health services of China-born migrants were lower. Specifically, the socio-economic status of China-born migrants would paly a role on their general health status. For example, China-born migrants' economic ability, the proficiency of grasping English and the integration into the destination society would be their barriers to access to the local health services. It is noted that the traditional cultural value, especially traditional Chinese medical science, deterred them from access to local health services as well. The caution of China-born migrants regarding western medicine also explained their low utilization of health services in Australia. In addition, China-born migrants tended to be less aware of mental diseases and therefor reported low acceptance of preventive treatment of mental treatment or psychological treatment.
Keywords: China-born migrants, Australia, Health Status, Health Services, International migration
B.12  Global Talent Competition and A New Trend in the U.S. Talent Immigration Policy
Liu Zong Kun
Abstract: This article describes how the advance of automation and artificial intelligence has intensified global talent competition and how the U.S. government has adjusted its immigration policy to attract global talents in this constantly evolving context.  Specific analysis is given to Matter of Dhanasar, a new case law recently adopted by the U.S. government, governing immigration of global talents whose prospective work in the U.S. will be in the national interest.  This analysis indicates that the U.S. government is adjusting its immigration policy to cope with the increasing demand of global talents in the U.S. economy and to maintain its competitiveness in the global market.
Keywords: global talent competition; U.S. talent immigration; alien of extraordinary ability; national interest waiver; brain drain;