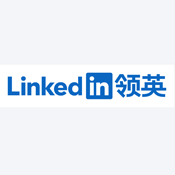 LinkedIn
As the world's leading professional network, LinkedIn was founded in 2003 and is headquartered in Silicon Valley, California, USA. LinkedIn's vision is to create economic opportunity for every member of the global workforce, and create the world's first Economic Graph. As of January 29, 2020, LinkedIn has more than 675 million members from more than 200 countries and territories around the world, with the number of Chinese members currently amounting to over 50 million. In 2014, LinkedIn officially announced its entry into China and has been providing quality localized products and services to members and enterprise-level clients. In 2019, LinkedIn announced the launch of its China 2.0 strategy after five years of exploration in the country, to upgrade the previous localization strategy. Based on the unique advantage of vast global network and big data, LinkedIn joins hands with powerful industry players to build a "one-stop shop for professional and career development", which aggregates the most demanded career-focused features to provide values to our members in various stages for career development, so as to help them become better and then connect to infinite opportunities.
LinkedIn China Enterprise-Level Solutions and Products
LinkedIn Talent Solutions
LinkedIn Marketing Solutions
LinkedIn Talent Insights
Based on the globe's largest talent pool and a strong grasp of big data, LinkedIn Talent Solutions helps Chinese enterprise find and engage the best talent via social recruitment, as well as consistently building up employer brands and developing globalized talent strategies to attract overseas talents.
Leveraging the company's collection of big data, LinkedIn Marketing Solutions is able to provide tailored social advertising solutions for clients looking to promote either products or brands to a group of targeted audiences. More importantly, we are able to direct any global brands to Chinese senior professionals, elites, and business decision makers while enabling Chinese brands to do the same overseas.
Based on Talent Intelligence, LinkedIn has launchedLinkedIn Talent Insights to empower enterprises with data insight on human resource management and competitive strategy, promoting the foresight and accuracy of Chinese enterprises in the aspects of globalization and industrial promotion, when targeting the globe's top enterprises.
LinkedIn China Milestones 2014:
LinkedIn entered the Chinese market
● LinkedIn officially announced its entry into China, starting business in the country with a unique organizational structure.
● LinkedIn launched its Chinese beta site, introducing official Chinese name – "领英".
● LinkedIn China soon began to monetize its venture, introducing LinkedIn Talent Solutions (LTS). This provided localized solutions and services to assist Chinese enterprises in attracting talents while improving the competitiveness of employer brands. During its 5 years of operations in China, the LinkedIn Talent Solutions team has launched innovative solutions for overseas talents, such as LinkedIn Talent Insights(LTI), to create greater value for Chinese enterprises. By May 2019, LinkedIn has provided overseas talent recruitment services and supportive talent globalization strategies for over 1,000 enterprises. Over this time period, more than 130 thousand talents, all of whom had studied and worked overseas, returned to China via LinkedIn. 2015: LinkedIn revealed a two-pronged brand strategy, attempting to localize the platform
● In addition to LinkedIn's flagship product, LinkedIn launched the Chitu app in China as a local, tailor-made product to expand the company's mobile appeal.
● As a series of localization attempts in China, LinkedIn partnered with a number of enterprises. Such examples including the linking of WeChat with LinkedIn accounts and LinkedIn becoming the partner of Zhima Credit in credit scoring. Following these aspects, LinkedIn hoped to better serve LinkedIn China members and connect them with global opportunities. 2016: LinkedIn accelerated Chinese business development, enhancing monetization
● Alongside the opening of LinkedIn's Shanghai office in 2016, the year also marked the launch of LinkedIn Marketing Solutions (LMS). Recently, LinkedIn Marketing Solution Greater China was officially established.
● By leveraging the advantages LinkedIn enjoyed in Mainland China, Hong Kong, Macau and Taiwan, LMS achieved 100% annual revenue growth in its enterprise-level and online sales business arms, attracting numerous multinational and domestic clients including Microsoft, Oracle, Huawei and Air China.
● According to a latest third-party customer survey, the Net Promoter Score (NPS) of LinkedIn Marketing Solutions ranks in second place, rising year by year. 2017: LinkedIn released the first Economic Graph in China
● LinkedIn collaborated with Tsinghua University to publish the China Digital Economy Talent Report, indicating the official launch of LinkedIn's Economic Graph in China.
● Over the following years, LinkedIn also jointly released the Digital Economy and Talent Development Report for China's Yangtze River Delta Region, the Digital Economy and Talent Development Report in China's Guangdong-Hong Kong-Macao Greater Bay Area, the Digital Transformation of Chinese Industries: A Digital Talent Perspective and the Innovative Cities and City Clusters in the Era of Digital Economy: A Talent Perspective, mapping talent data for the digital economy. By analyzing and forecasting economic trends, LinkedIn aims to better help talents connect to more opportunities.
● To date, the LinkedIn Economic Graph team has also published the Cross-regional Talent Migration Insights and Data on Chinese College Graduates' Current Employment Status, providing significant trends on global talent migration which support the talent strategy for higher education. 2018: LinkedIn refreshed its China product strategy, focusing on content development
● LinkedIn Global approved the new China product strategy, with the aim of creating a Chinese member-driven "one-stop shop for professional and career development".
● Since its launch in 2014, LinkedIn's WeChat account has attracted over 2.2 million followers and over 300 million cumulative page views. The WeChat account has published over 400 articles, each generating over 100,000 views, with 6 articles enjoying in excess of 1 million views. Consequently, LinkedIn's WeChat account has been awarded many prizes in the new media industry.
● In 2018, the LinkedIn China Editorial Team was established, releasing the LinkedIn Top Companies List in China for the first time. The team publishes a LinkedIn Daily Rundown each morning at 8 am, providing an important source of industry news and insights for LinkedIn members. Since entering China, the "LinkedIn Pulse" has brought together top leaders, industry veterans and experts from a variety of professional fields, including science and technology, media and human resources, inviting a total of 500 leading industry writers to contribute content. 2019: LinkedIn China hits 50 million members, launching the company's China 2.0 strategy
● LinkedIn reshaped its brand message of "Connect to Opportunity" by launching new brand campaigns including "In It Together".
● Based on the new product strategy to build a "one-stop shop for professional and career development", LinkedIn upgraded the existing product and adding new product features including Career Guide, Career Q&A, e-Learning and Salary Insights, making the product more suitable for the Chinese market.
● LinkedIn will continue to build an ecosystem through multi-level cooperation with industry partners, including partnerships on skills assessment and professional learning, to help Chinese professionals make more progress.